We are excited to finally announce that we are moving locations! We are moving from our current location over to the CyFair Town Center Shopping Center. We are really excited about the move and the new shopping center. 
Below is a map of our new location and a couple of the other tenants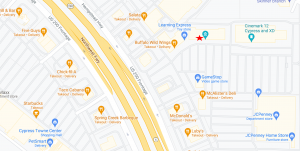 Come Help us CELEBRATE!
Come and Join us September 11, for a 10th Anniversary Party at our current location to get all the details on our Move! We will have snacks and an Anniversary/Moving Sale! 
Stay Tuned to your email/Social Media for up to date information on the move!